Beach weddings on the Costa del Sol
When planning a wedding on the beautiful Costa del Sol, then a perfect setting is the beach. Especially Marbella has so much to offer to everyone, from the glorious sea, sunshine whole year long and the perfect romantic atmosphere. There are many nice beaches located along the coast in and around Marbella with several fabulous wedding venues.
Wedding planners are offering attractive beach wedding packages, so everybody will find the perfect beach setting for the big day.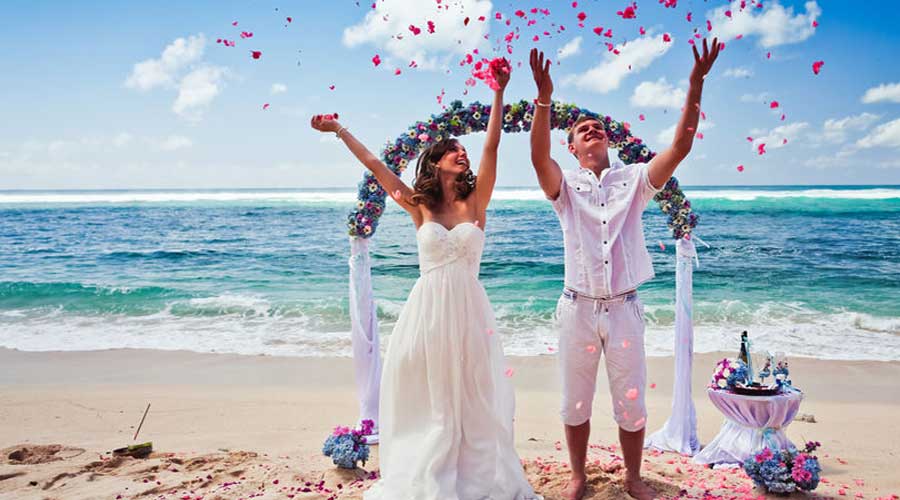 But beach weddings come with a set of challenges for your wedding planning, like wind, heat, noice of the waves and sand.
You should consider the following:
The wedding dress
Because of all these obstacles your wedding dress and bridesmaid dresses should be light and airy. The dress shouldn't stick or cling against your body, the dress should move well in the wind and with you, so it can withstand a lot of action. Your dress should also be flat-shoe length, because heels or even wedges will not work well at the beach. Pick a pretty flat sandal that won't sink into the sand much and that is easy to walk in.
The same applies to the groom. A stuffy tuxedo doesn't work well for the beach. Your fiance needs light-weight, airy materials, so he can feel comfortable during the ceremony and reception. Ideal would be linen suit in friendly cream, light grey or earth-tone color.
The Wedding Hair
Because oft he wind your hairstyle can't be too precious because it will get blown around. The best hairstyle for a beach wedding is beachy, loose waves. If that seems too plain, a great way to elevate your down hairstyle is to add a floral or seashells headband. If you want an up-do, a great style is a loose, pretty braid, which will still look great even if some pieces get blown out.
The Wedding ceremony
During your ceremony, the noise of waves crashing and the wind blowing may make it hard for anyone to hear what you, your groom, and the wedding officiant are saying. Consider having microphones for the three of you and speakers set up around the area so that your guests will be able to hear you and the audio will be able to be picked up on video recorders.
The best time of day for a beach wedding is around sunset. At that time, the temperature should be dropping, so you, your wedding party, and your guests won't be roasting in the heat. Also, the lighting at that time of day sets a great ambiance and is ideal for pictures. As the sun goes down, the darkness of the evening sets a beautiful scene for your reception.