Weddings are romantic. They allow you to make your love to each other official. While you can get married in church or registry office in the UK, you want your wedding to be something romantic and special; something that you will both remember for a long time. If you're looking for that extra something, then you might want to think about a wedding in Marbella. Marbella and the surrounding area presents one of the best all year round climates as well as beautiful scenery. With its rich history, it doesn't matter if you are after somewhere quiet and informal or thinking about a large wedding, Marbella offers a wide selection of romantic wedding venues. There are many different wedding venues in Marbella for you to choose from. You might decide to hold your wedding in a luxury hotel overlooking the sea or to get married on the beach. On the other hand, a wedding in Marbella doesn't have to be on the coast. You could decide to hold your wedding in the surrounding hills and countryside. For the perfect Spanish wedding, Marbella and Costa del Sol has everything you will need. For your guests, the excellent links to the UK make it an easy and reasonably priced location for them to fly to.
A Spanish wedding presents a wonderful way of cementing your union. A wedding in Marbella offers the perfect setting for a romantic day that you will not forget. When it comes to wedding venues in Marbella and the Costa del Sol, you will find that there are many on offer that will suit everyone's taste and budget. Many of the venues offer fantastic views. Given the sunny, all year round climate you might decide on a beach wedding in Spain. This could be at a luxury beach club or a small restaurant located near the beach. When planning your beach wedding you could decide on holding it as the sun rises or the sun sets.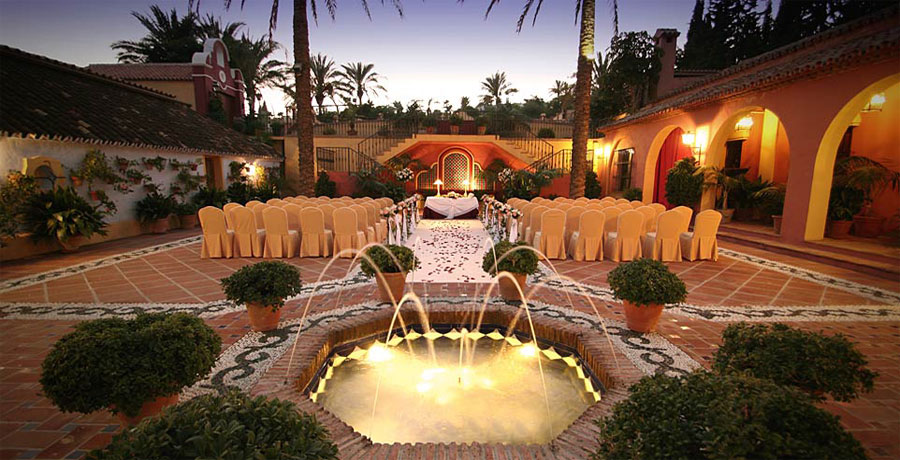 Together you may be thinking that you want something different for your wedding. Perhaps you might want to escape the coast. If you are looking for a more rustic wedding maybe in one of the region's characterful Cortijo's you could opt for a location in the countryside and mountains around Marbella and the Costa del Sol. Andalucía has many romantic places where you can be married. In deciding on a location for your wedding, you might consider a wedding villa in Spain. Whether it is on the coast or in the hills surrounding Marbella, there are all types of luxury villas that you can rent for your wedding ceremony.
Alternatively, Spain's rich history means that there are many other romantic locations that you can opt for. What's more romantic than having your wedding in a castle for example?
For that special day, it is only your imagination that limits your perfect wedding venue location in Marbella and the Costa del Sol.